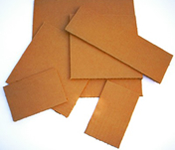 Pads & Honeycomb
Wholesale Pads and Honeycomb from Service Box And Tape Atlanta, GA
Layer, protect and separate your products during shipment and storage using these premium quality pads and honeycomb!
We have single wall pads, double wall pads, honeycomb pads, wadding rolls and 3-ply Kraft paper. Use these materials to create sturdy layers within pallets. These pads and honeycombs are designed for heavier materials than other packing and void filling items.
Use this as a sturdier and more eco friendly alternative to other non-biodegradable materials such as foam rolls and bubble wrap.
Uses:
Honeycomb can be used as panels to protect the exterior of big items.
Honeycomb boards can be used to fill voids in between shipments to prevent movement and can serve as a cushion while in transit.
Can be an eco-friendly alternative to foam.
Can be used to replace wood and metal in most situations.


Single Wall Pads
Single wall pads can be used to protect from damages from strapping and forklifts. You can choose from our standard sizes: 40" x 48" 48" x 48" and 48 x 96" or you can request for a custom cut.

Double Wall
Sturdier than single wall pads, our double wall pads can be used layering and protecting heavier items. It's also more tolerable to higher stacking of your products so you can save more space.

Honeycomb Pads
Our stock size for honeycomb pads is 40" x 48" x 1(thick). It comes perforated every 4" to for easier and faster separation into 4" x 40" pieces.

Wadding Rolls
We have wadding rolls at 48" wide. Made of Kraft paper layer with soft tissue paper layers, it can serve as a "paper blanket" to wrap and protect furniture from dust and scratches.

3-Ply Kraft Pad Paper
Comes in 60" x 72", our 3-ply Kraft paper can also be used to wrap furniture while moving or shipping.
Can't find the right size that you need for your business? We also offer custom sizes. Call us at 404-756-8400 for assistance.