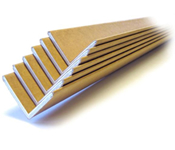 Edge Protectors
Protect, Strengthen, and Stabilize Loads with Edge Protectors/Cornerboard
Edge Protectors provide protection and added support to double stacked pallets, while preventing damages from shipping. Use it together with strapping and/or stretch wrap to prevent damages to your freight.
Use edge protectors for unitization - a technique that makes it possible to ship more products in one pallet. It reduces shipping costs and stability. If you need to stack your goods together, the edge protectors add stacking strength and prevent damages while maximizing your space.
Custom sizes are available. Contact us at 770-756-8400.