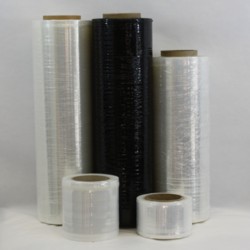 Hand Stretch Wrap
Our conventional cast stretch wrap comes off the roll smoothly and quietly without the annoying "blown film" sound.
Clear stretch wrap has high clarity, to identify the product within.
Narrow-wide hand stretch is available in 3", 5", and 5" (Extended Core), for better control of bundling.
The newest high-performance micron film allows you the same holding power as conventional film, but at a much lower per-pallet cost. Each roll is lower in weight and easier to handle.
We carry a 20" roll with Extended Core that does not require a dispenser.